The gaming mouse is the workhorse of the graphic design industry. It is used for everything from drawing to editing to color-picking. It has become an essential tool in modern design because it is low-cost, highly customizable, and can be used for many purposes by many types of professionals across all media. 
Ergonomic Mouse can be used for many different design-related tasks and there are many different brands with great designs to choose from. This article will highlight some of the best mouse designs that are currently on the market. Below we shortlisted some of the best mouse for designers of 2022 or you can say mouse for productivity, so without further delay, Let's see what they are and how you can maximize your workflow with a graphic gaming mouse.
How to Choose & Pick the Right Mouse for Graphic Design?
While there are plenty of options for you to choose from when you are shopping for a mouse, finding one that best suits your needs may be difficult.
The main advice is to think about what type of work you're doing and how much time you spend in front of the computer.
There are also some other considerations like the DPI (a measure of how much movement is registered per inch), type of sensor, shape, and size, either wired or wireless connection, how many buttons, scroll wheel positioning, and more.
According to my, The best mice for digital artists are those that make you work efficiently and speed up your workflow. They should be fast, precise, and provide a smooth and accurate experience.
A mouse is an input device that can help enhance your design skills to really bring out the best of your creativity. It's important to choose one that fits well with the rest of your setup or work environment.
One of the most important parts of buying a mouse is figuring out how you will use it in conjunction with other tools such as a computer, tablet, or even a phone. This will help you decide what features are essential for you and which ones can be sacrificed for better performance overall.
Here's a quick guide when considering the best mouse for your graphic design needs, you must take into account the 8 aspects that follow:
Ergonomic design 

An ergonomic design mouse is a computer peripheral computer that is designed to reduce the stress put on the wrist, arm, elbow, and shoulder as it mimics the shape of a human hand. It can be used for browsing web pages, playing games, or using different programs with ease and comfort. Ergonomic design mouse helps to improve user's hand and arm health. The mouse is designed with a rubber grip that offers a soft, non-slippery surface and an easy-to-reach button design.

 

 Wired or wireless Mouse

Most people might not realize that a wired or wireless mouse can make a huge difference in how you interact with your computer. Wired mice are more durable and don't require batteries, while wireless mice are more portable. When shopping for a mouse, it is important to make sure that the product has a soft rubberized texture on the side of the hand so you can hold it more easily.

 

Laser or optical Mouse

Optical or laser mice are devices that use an optical or laser sensor to track the movement of the mouse. This technology allows for more accurate placement of the cursor, especially when working on a computer with low resolution.

The laser mouse uses a laser beam to detect movement and allows for smoother cursor control. This can be a plus for certain players, as the cursor will glide over the screen smoothly without having to move as much as an optical mouse. The optical mouse, on the other hand, senses movement by bouncing beams off of surfaces and is ideal for those who have less precision or those who need a more ergonomic design

 

Size or dimension of Mouse

The dimension of a mouse depends on the shape of its body. It can be big, medium, or small. There are many different sizes of mice for gamers to choose from. If you're looking for a smaller mouse with a lot of precision, the size of your palm or fingertip is best. If you want to be able to move your mouse quickly and accurately, the size of the mouse pad is important.

If you are looking for a mouse that is comfortable to hold, accurate and offers superior performance in terms of tracking speed and precision, the Logitech G403 is the perfect solution.

 

Customizable Buttons in Mouse

Mouse buttons are a standard feature in a computer's mouse. But what if you could make it possible to modify the appearance or functionality of your mouse buttons? Customizable buttons in mice allow you to change the function of the button by using a variety of different materials.

These buttons allow users to change how their mouse works and what buttons they use by adding or removing functionality.

DPI and Sensitivity of a Mouse

DPI and sensitivity of a mouse play an important role in how accurately your mouse can respond to your movements. The DPI is a measurement of the resolution of a mouse. The higher the number, the more precise the cursor will be. A high DPI mouse can be used with application software that requires high precision for its functionality. The sensitivity of an input device is the amount of movement in inches per second that causes it to send action to a computer.

The DPI (Dots per inch) and sensitivity of a mouse can be affected by the mouse's weight, shape, sensor type, and software. Regardless of what type of mouse you are using, the DPI is measured in dots. A high DPI can cause your cursor to move too fast for the person you are gaming with, whereas a low DPI gives you more control. The sensitivity is

 

Compatibility Windows or Mac

If you are considering buying a new mouse for your computer, make sure it is compatible with your existing operating system. Otherwise, you will have to purchase a separate device for each operating system. For example, the Apple Magic Mouse is compatible with just one platform: Mac OS X.

 

Silent or Regular Mouse Noise

There is a debate about whether it is better to have a regular mouse noise or a silent one. While the silent mouse makes it easier for those who are sensitive to noise, some argue that it can cause confusion as some might think they are clicking on something when they are actually not. Silent mice also do not make the clicking sound that some people find comforting.

Silent mice are the best choice for gamers who want to hear every click of their mouse. They don't make any noise or vibrations that might distract you. However, if you're not the kind of person who likes to hear every click, you should go with a regular mouse.

 
5 Best Ergonomic Mouse Under $90
The market is full of different types of mice and the choice can be overwhelming. There are many factors to consider, such as your mouse sensor, resolution, and size. However, if you know what you want in a mouse, it is easy to narrow down the selection and find one that will suit your needs.
It's difficult to find a perfect mouse for everyone. Every user has their own needs and wants in a mouse that they use for work or gaming purposes. However, we have found five mice that we think are worth looking into:
amazon
Logitech MX Master 3 Advanced Wireless Mouse, Ultrafast Scrolling, Ergonomic, 4000 DPI, Customization, USB-C, Bluetooth, USB, Apple Mac, Microsoft PC Windows, Linux, iPad - Graphite
as of December 5, 2022 11:15 pm
Logitech is good for producing quality mice, keyboards, and other accessories. The Logitech MX Master 3 is definitely the best mouse to use if you are a designer. It's comfortable to use for hours on end because it's ergonomically designed, and you can easily place shortcuts on its buttons. We can say that it's the best ergonomic mouse for graphic designers. However, there are no options for left-handed users.
The MX Master 3 will track on pretty much any surface with a high rate of accuracy and write at a speed that'll keep up with you- even when you're steaming ahead. This logitech mouse is quite small with 4,000 dpi and ETL certification. 
It'll charge in minutes with its USB-C capability and go up to 70 days on a single battery with no troubles. Switching between devices with this mouse is as easy as one press of the button–you won't need any additional tools. 
You will be grateful for Logitech's wireless technology which can improve productivity thanks to its reliability, especially in the workplace. This technology also helps reduce latency.
walmart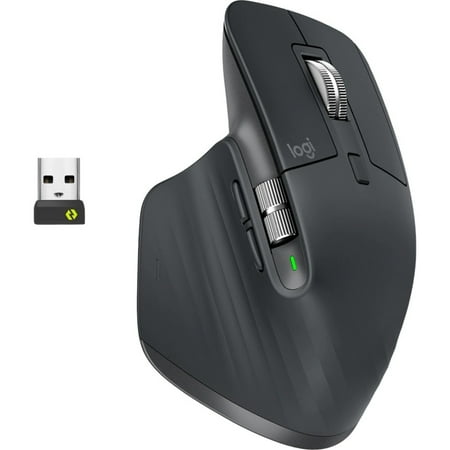 Logitech MX Master 3 for Business Mouse, Graphite
as of December 4, 2022 7:13 pm
SPECIFICATIONS
DPI: 4,000
Connection: Bluetooth and 2.4GHz wireless
Buttons: 7
Ergonomic Type: Right-handed
OS Support: Linux, Mac, Windows, iPadOS
amazon
Apple Magic Mouse (Wireless, Rechargable) - White Multi-Touch Surface
as of December 5, 2022 11:15 pm
The Apple Magic Mouse 2 features an updated design that makes it lighter and with fewer moving parts, making it convenient for consumers. It also has a continuous bottom shell & a built-in rechargeable battery.  
The Magic Mouse 2 has a new design in order for it to be more compatible with your work surface. The foot is optimized & tracks much easier, while the mouse body itself allows for less resistance when navigating around. It is the best wireless mouse for graphic design. It's the best wireless mouse for designers.
The Multi-Touch surface on the Magic Mouse 2 can be used in a number of creative ways such as swiping between websites, opening Notification and Mission Control, and scrolling through documents. The Magic Mouse 2 is ready to use out of the box and will pair automatically with your Mac.
SPECIFICATIONS
DPI: 1300

Connection: Bluetooth and Wireless connection
Buttons: 0 
Scroll Wheel: Tactile surface
Ergonomic Type: Ambidextrous
OS Support: Mac
amazon
Logitech MX Ergo Wireless Trackball Mouse Adjustable Ergonomic Design, Control and Move Text/Images/Files Between 2 Windows and Apple Mac Computers (Bluetooth or USB), Rechargeable, Graphite - Black
as of December 5, 2022 11:15 pm
The MX ERGO Plus Wireless Trackball Mouse from Logitech is an ergonomic mouse. It features a unique adjustable hinge, which adjusts up to 20° for your most natural grip. 
This mouse has an optical sensor, a 4-way scroll wheel, and the battery lasts up to 4 months & can be connected wirelessly. The wireless connection is made with the included wireless receiver in the mouse. 
In order to utilize FLOW technology, you can pair your mouse with a keyboard as well as use the same mouse without the aforementioned hassle.
walmart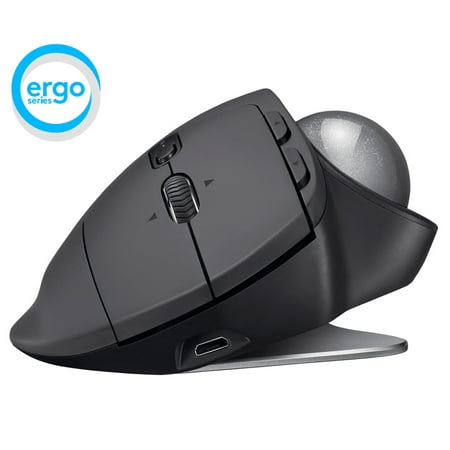 Logitech MX Ergo Advanced Wireless Trackball
as of December 4, 2022 7:13 pm
SPECIFICATIONS
DPI: 512 – 2048
Connection: Bluetooth and 2.4GHz wireless
Buttons: 8
Ergonomic Type: Right-handed
OS Support: Mac, Windows
The Microsoft Surface Mouse is designed for use with the Microsoft Surface tablet, but it's compatible with other tablets as well.
This is a mouse that you can use regularly for up to 35 hours a week. This is our recommendation as its ergonomic design is specifically designed for this purpose. However, it does have a fancy look to it and could be used as part of an aesthetic presentation. 
The mouse features an extendable and retractable scroll wheel. Its made of metal and is a delight to the touch. It has wonderful accuracy and doesn't require you to plug or recharge it like some other options.
walmart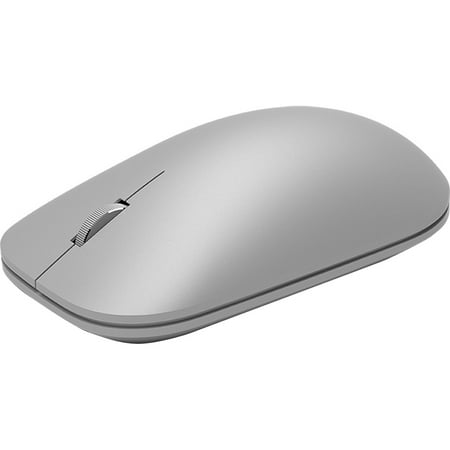 Microsoft Surface Mouse - Mouse - right and left-handed - optical - wireless - Bluetooth 4.0 - gray - for Surface Book with Performance Base
as of December 4, 2022 7:13 pm
SPECIFICATIONS
DPI: 1000
Connection: Bluetooth (BlueTrack)
Buttons: 2 plus scroll wheel
Ergonomic Type: Ambidextrous
OS Support: Mac, Windows
amazon
Razer DeathAdder Chroma - Multi-Color Ergonomic Gaming Mouse - 10,000 DPI Sensor - Comfortable Grip - World's Most Popular Gaming Mouse
as of December 5, 2022 11:15 pm
The DeathAdder Chroma is Razer's flagship gaming mouse, designed to provide ultimate performance in the most competitive esports tournaments. 
Razer is primarily known for its gaming products, but it doesn't mean that they're not suitable for creatives. The ergonomic design makes it easy to reach all keys on the keyboard while maintaining accuracy during fast & furious gaming sessions.
The DeathAdder Chroma sensor is good at picking up movement and it can accurately track at a speed of 10,000 DPI. It also offers a firm grip, making it perfect for FPS games.
walmart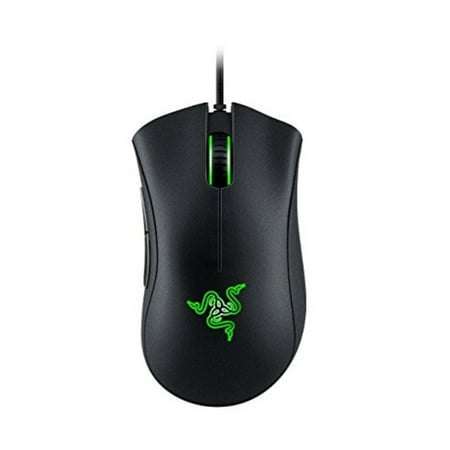 Razer DeathAdder Chroma - Multi-Color Ergonomic Gaming Mouse - 10,000 DPI Sensor - Comfortable Grip - World's Most Popular Gaming Mouse
as of December 4, 2022 7:13 pm
SPECIFICATIONS
DPI: 10,000
Connection: USB
Buttons: 5
Ergonomic Type: Right-handed
OS Support: Mac, Windows
The graphic mouse is becoming more popular due to its ability to not only save time but also provide quality content, all included in the device for ease of use. And as we all know, graphic designers are known for being very resourceful, imaginative, and creative. However, they lack the ability to automate their work. Graphic design is a process that requires extensive research and creativity that is best personified by humans.
With these additional design tools, professional designers are able to work more quickly without any extra effort or training. They can spend more time on creative ideas while being able to complete multiple tasks at the same time.
These features help to speed up the design process by making it easier for users to create graphics. The graphic mouse requires no real skills to use and can be used by anyone who is working in the field of graphic design. So, Which Brand of Mouse Are You More Likely to Like? Tell us in the comment below.
Buy Best Mouse For Graphic Designers
amazon
Last updated on December 5, 2022 11:15 pm
walmart