Graphic designing in the digital age has changed in ways that are obvious to anyone who is currently in the industry. Nowadays, you don't need to be a design prodigy to make your mark on the market. This is because there are many tools that make graphic design easier, faster, and more scalable for anyone with a creative mind.
Today's graphic designers are using a variety of tools to create their work. A Pen Tablets is one of these tools that graphic designers are using with increasing frequency. It can be used for sketching, drawing, calligraphy, doodling, and more.
Tablet pens are an increasingly popular tool in the modern office, but it can be hard finding one that's right for your needs. This article will help you to get the best pen tablet for your needs. It offers advice on how to choose the best tablet for you and what features to look out for.
The pen tablet is a device that offers you a different way of drawing and painting and helps graphic designers create designs with ease. It can help to speed up the production time of designs and it also helps to avoid common mistakes that are usually made when using a traditional mouse.
The pen tablet offers a more natural way of drawing than using the mouse to draw directly on the screen. It also allows users to quickly explore new ways to create designs with finger-based gestures. A pen tablet is an excellent tool for designers who want to create digital content because it mimics the experience of working on paper with pens, pencils, and colors.
Pen tablets allow designers to create digital content without having to worry about mistakes made by a mouse cursor or keyboard shortcuts. Using it, graphic designers can quickly sketch out ideas and create design layouts with only the use of their hands, they can avoid hand fatigue by arranging multiple layers of lines on the screen, and they can avoid making many common mistakes.
Why Use a Pen Tablet for Design?
The pen tablet has always been a fixture in the design industry, but recently they have seen a resurgence in popularity which has to lead to more and more organizations integrating them into their workflow. They are also used in industrial design, where they help manufacturers create prototypes for industrial machines. There are plenty of reasons to use a pen tablet in your workflow, including:
Instead of using software to manipulate images and text, you can use the touch screen and stylus (pen) to draw directly on your screen.

The digital pen is more precise than the mouse or stylus, giving you better control over image editing.

It's portable meaning that you can take it anywhere with you.

Pen tablets provide a large drawing area that is suited for drawing and designing.

It will speed up your digital illustrations.
Questions to Ask Before Buying a Graphic Pen Tablet
Pens tablets are the ideal tools for digital artists who need to create or edit graphics and illustrations. If you are looking to buy a pen tablet, here are some features that you should be looking for to maximize your productivity with your new purchase.
Features to see when buying a graphic pen tablet:
The first thing to consider when buying a pen tablet is what software you will be using it with. Most of the time, pen tablets only work with digital illustration programs like Adobe Illustrator or CorelDraw. Other options that are available include Photoshop, Sketch, and Manga Studio Pro.
What size is the drawing area?
How many pen pressure sensitive it has?
Is there an eraser?
What other features does it have?
How many levels of tilt support does it have?
What quality of HD display they are providing?
The 5 Best Pen Tablets for Graphic Designers
In the past, pen tablets have been used as a tool for graphic designers. Pen tablets have been around for a long time and it has evolved a lot. There are now different brands manufacturing different types of tablet with various features at different price points.
Here is a list of the top five best graphics tablet 2023  reviews:
amazon
Wacom Cintiq Pro 32 Creative Pen and Touch Display (2021 Version) 4K Graphic Drawing Monitor with 8192 Pen Pressure and 98% Adobe RGB (DTH167K0A), Black
as of September 22, 2023 12:06 am
walmart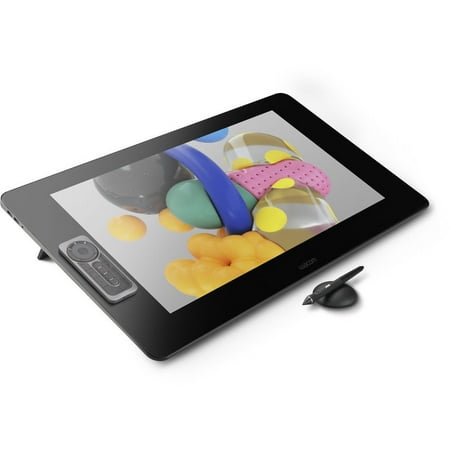 Wacom Cintiq Pro 32 Creative Pen Display Graphic Drawing Tablet with 4K Screen (DTK2420K0)
as of September 20, 2023 9:19 pm
The Wacom Cintiq Pro 32HD is a graphics tablet that is perfect for artists, designers, and digital painters. Combining the accuracy of a traditional pen with the flexibility of an artist's toolkit, this graphics tablet has everything you need to do your job. It has an ultra-smooth surface that creates natural lines, curves, and shapes with the use of pressure sensitivity.
The Wacom Cintiq Pro 32HD is a high-resolution, high-end graphics tablet with a large, 31.5inch touchscreen designed to provide an immersive drawing experience. This model has a 1ms response time. It also has three customizable Express Keys on top of the device to allow for quick access to different tools like brushes, erasers, and gradients. The tablet also has an 4K Ultra HD screen which offers more clarity and quality of work.
SPECIFICATIONS
Active drawing area: 

31.5× 17.92in

Pen pressure sensitivity: 

8,192 levels

Connections: 

USB, Bluetooth

OS: 

Windows or macOS
2. XP-Pen Artist 15.6 pen display
amazon
Drawing Tablet with Screen XP-PEN Artist 15.6 pro Computer Graphics Tablet 120% sRGB with Battery-Free Stylus Full-Laminated Technology, 15.6 inch Pen Display with 8 Shortcut Keys & Red Dial
as of September 22, 2023 12:06 am
walmart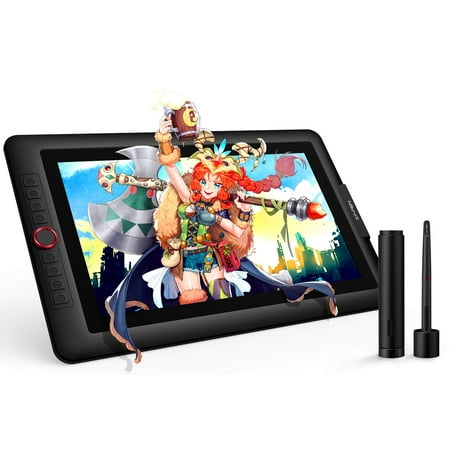 XP-PEN Artist 15.6 Pro Drawing Pen Display Full-Laminated Techlay Graphics Monitornology Drawing Monitor Tilt Function Red Dial 8192 Levels Pen Pressure
as of September 20, 2023 9:19 pm
The XP-Pen Artist 15.6 pen display is a professional graphic tablet that has been created to offer unmatched performance, versatility, and precision for creative professionals. XP-Pen Artist 15.6 pen display is a powerful tool to help you design, draw or paint with ease. It has a sleek and stylish metallic aluminum pen stand that is easy to assemble and maintain. This graphics tablet provides users with an incredible resolution for producing high-quality artworks with precision and efficiency.
SPECIFICATIONS
Active drawing area:

13.54 x 7.62in

Resolution:

1,920 x 1,080

Pen pressure sensitivity:

8,192 levels

Connections:

USB-C

OS:

Windows or macOS
amazon
Wacom PTH660 Intuos Pro Digital Graphic Drawing Tablet for Mac or PC, Medium, New Model, Black
as of September 22, 2023 12:06 am
walmart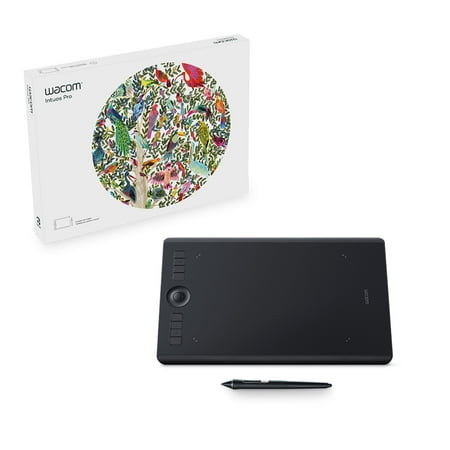 Wacom Intuos Pro Digital Graphic Drawing Tablet for Mac or PC, Medium, (PTH660)
as of September 20, 2023 9:19 pm
The Wacom Intuos Pro is a popular graphics tablet for artists. It features 8,192 levels of pressure sensitivity and tilt sensitivity. The pen can be connected to a computer with either USB or Bluetooth. Additionally, the pen comes with 8 customizable ExpressKeys and buttons on the side that can be used for shortcuts such as undo/redo, navigating menus, mapping colors, and more.
Wacom's Intuos Pro is a high-end graphics tablet designed for professional artists and designers. It comes with a precision pen and pressure levels that allow users to create textures, brush strokes, and more with ease. The Intuos Pro also supports 60-degree angles to make drawing 2D, 3D objects easy.
SPECIFICATIONS
Active drawing area:

12.1 x 8.4in

Pen pressure sensitivity:

8,192 levels

Connections:

USB, Bluetooth

OS:

Windows or macOS
Apple iPad Pro is now out and available for purchase. This new tablet has a number of interesting features that compete with the popular Microsoft Surface Pro. The new iPad Pro has the M1 processing chip, which is available only on Macs. It's upgraded, so the performance is better than before. The all-new mini-LED XDR display produces stunning digital art at high speeds, and with less electric power input than ever before. Simply press the artist palette icon on the bottom surface of the monitor, then select an app to change to that'll best accommodate your style of work.
Drawing is still an enjoyable experience with the new pencil. The screen has significantly improved in terms of brightness, with better controls for local dimming. These are just two of the many benefits that have been added to the Apple Pencil.
SPECIFICATIONS
Active drawing area:

10.32 x 7.74in

Resolution:

2,732 x 2,048

Pen pressure sensitivity:

Not specified (requires optional Apple Pencil)

Connections:

Thunderbolt 4, USB-C, Bluetooth, Wi-Fi

OS:

iPadOS 14.6
amazon
HUION H610PRO V2 Graphic Drawing Tablets 10x6 inch Digital Drawing Pad for Computer/Mac, 8192 Battery-Free Pen Tilt Function, Glove and 18 Pen Nibs Included
as of September 22, 2023 12:06 am
walmart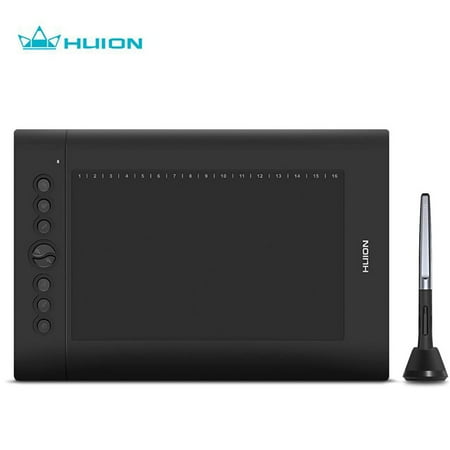 Huion H610 Pro V2 10x6.25 Inch Professional Graphics Drawing Tablet Signature Pad Board
as of September 20, 2023 9:19 pm
The Huion H610 PRO V2 is a great graphic tablet for beginners and professionals due to its affordable price, versatility, and performance. The device can be used in a variety of ways with its wide range of features such as the pen thickness function, pressure sensitivity, tilt angle adjustment slider, Erase mode, and more.
The Huion H610 PRO V2 comes with six shortcut keys that can be customized to suit the user's needs and preferences. These shortcuts include undo, redo, copy, paste, clear screen, and zoom in/out tool. Huion H610 PRO V2 has a ±60° tilt support which allows users to be more efficient when editing images. The Huion H610 PRO V2 offers a range of features that make it an excellent choice for beginner graphic artists.
SPECIFICATIONS
Active drawing area:

10 × 6.2in

Pen pressure sensitivity:

8192 levels

Connections:

Micro USB

OS:

Windows or macOS
The pen tablet market is ever-changing, with some tablets vastly outperforming others. However, the benefits of having a great pen tablet such as better performance and accuracy cannot be ignored. 
Even though there are many categories like mi tablet, tablet with pen, Samsung tablet, and so on, we only focus on the most popular categories and the affordable ones, we will try to give you some insight into what to look for in a new tablet, and hopefully help you find the perfect device for your needs.
Buy Best Pen Tablets for Designing
amazon
Last updated on September 22, 2023 12:06 am
walmart